What's New at the Museum
February 20 - Seminar on Fenton Glass
On Saturday, February 20th at 11:00AM, the Historical Glass Museum will host the third of its seminars on collectible Fenton glass. Museum Vice President Bill Summers will present, "Fenton Glass: The First 25 Years and the Last 25 Years." This tutorial will be illustrated with actual examples of early and late Fenton glassware. Afterwards, you can see more examples of Fenton glass in the Museum's collection, then browse the Museum Gift Shop for Fenton glass treasures you can buy. Among the Fenton glass currently being offered in the Gift Shop is a number of pieces of Fenton's "Violets in the Snow," white milk glass pieces with a handpainted decoration of violets (photo in left column). Admission is free, and refreshments will be served.
December 19 - An easy way to support the Museum
If you like to shop online with Amazon.com, now there is a way you can do so and support the Historical Glass Museum in the process. Begin your Amazon session by following this link: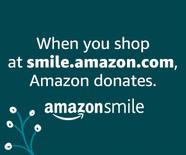 This will take you to the Amazon login, and whatever your order after signing in this way will result in 0.5% of the purchase price being donated to the Museum. It doesn't cost you anything - the donation comes from Amazon itself. So, if you shop Amazon with any regularity, this is a painless way to support the Museum.
December 5 - Holiday Open House - Enjoyed by all
The Historical Glass Museum held its annual Holiday Open House on Saturday, December 5th, at the Museum, 1157 N. Orange Street, Redlands. Visitors enjoyed the only museum of its kind west of the Mississippi River, with over 5,000 pieces of historic tableware and decorative glass from 1800 to the present, all displayed in a Victorian cottage. The Redlands Daily Facts newspaper ran an article (reproduced here) describing the open house. Enjoy.
October 24, 2015: Glass Presentation--Fenton Whimseys.
The second in a series of free Fenton glass workshop was held on October 24, 2015, from 11 a.m.- noon at the Historical Glass Museum. Museum Vice President and long-time Fenton collector, Bill Summers, discussed glass "whimseys" produced by workers at Fenton. The term "whimsey" refers to offhand glass items that were not a part of the company's regular product line and which were created by factory workers in their off hours. The workshop concluded with "Show and tell" where participants brought samples of Fenton glass to share with others. Refreshments were provided for all visitors.
June 20 - Fenton Presentation
On Saturday, June 20at the Museum there was a Fenton Glass Presentation. The Historical Glass Museum receives many visitors that are interested in Fenton Glass. This was the first in a series of programs that will feature Fenton glass and its various patterns. Hobnail is a long-continuing pattern from Fenton and other glass companies. Bill Summers, our Vice President, used examples from museum glass to address "How and when hobnail began," as well as how it was developed by Fenton in the 1940s, 1950s, and 1960s. After Bill concluded his presentation, attendees had the opportunity to bring their own Fenton finds and share them with the others. Bill answered questions based on his extensive experience. Refreshments were served and the Gift Shop was open.
Video of the Historical Glass Museum
Here's a nice bonus - a video featuring a tour of the Museum, courtesy of the Inland Explorer. Watch and enjoy !
January 22 - Stemware Display returns, even bigger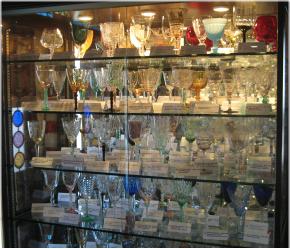 The Museum is now showing a tall cabinet full of American-made stemware, from the 1920s through the 1960s. There are over 160 pieces, each identified as to manufacturer and pattern (if known). Crystal, colored, bi-colored and even one tri-colored piece are shown from many well-known and some virtually unknown companies. This is just the tip of the iceberg, as there were hundreds of glass companies making thousands and thousands of different stems during the past century and a half. Sadly, nearly every one of those companies has gone out of business and most of our glassware is imported today.
Drop in and enjoy this impressive array of goblets and be dazzled by the quality and diversity of the American glass industry of the past.